A new community of Benedictine Canons is being formed in Tucson, Arizona. Father-Chad Joseph, Prior of the Community of St. Mary of the Annunciation, is assisting this new community as it comes into being. We are grateful to God for leading others to join us in following the Rule of Saint Benedict.
The annual General Chapter of the Canons of the Order of Saint Benedict will be held in Sioux Falls, SD on July 16 and 17, 2019. The Chapter will be hosted by the Community of Our Lady of Walsingham.
On Sunday, March 24, 2019, Br. Carter-Juan professed his first vows in the Order of Benedictine Canons at St. Augustine's Church in Tempe, AZ.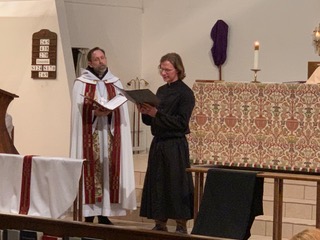 Br. Carter-Juan professes his vows.
The traditional Benedictine vows are Obedience, Stability and Conversion of Life.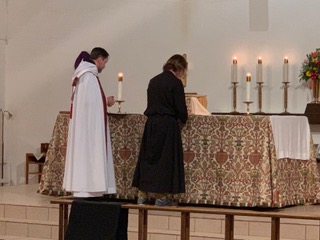 Br. Carter-Juan signs his vows.
This is traditionally done on the altar and the vows are then placed as an offering.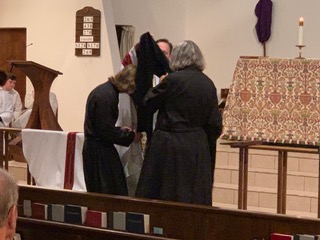 Br. Carter-Juan is clothed.
The Benedictine habit is given to the newly professed.
On Tuesday, April 9, Father Chad Vladimir professed his first vows. The Archbishop of Nova Scotia and Prince Edward Island received his vows.
The Archbishop presides at the profession of vows.
The Prior General requested that the Archbishop officiate at the liturgy.
Fr. Chad Vladimir professes his vows.
This act s witnessed by two clerics.
Fr. Chad Vladimir is clothed in the Benedictine habit.
The clothing symbolizes the taking on of the vows.